In addition to my academic work, I write essays, fiction and poetry. I also travel a fair amount and sometimes write about that.
I write about tech and ethics on Substack. Check it out and subscribe below!
Essays
Fiction
I started writing my first novel in eighth grade. I didn't have much of a plan; I just wrote. I abandoned that story at 10,000 words, but I kept on writing other things. I wrote a number of short stories throughout high school and college, and later came back writing novels. I self-published a couple of these novels, which you can find below. It's a dream of mine to "make it" as a novelist (i.e., make enough money to support myself entirely through writing), but in the meantime I'm having fun exploring new worlds and learning how to tell better and better stories.
Some of the storytelling tools I've found most helpful are the Story Grid methodology and the tips in Matthew Dicks' book Storyworthy.
Novels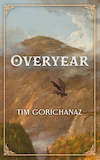 In Overyear, Reed is almost twenty, and he doesn't appreciate the elders of his village Eidolon pestering him about starting a trade, getting married, and—worst of all—taking his Overyear, a coming-of-age tradition in which a boy has to spend a year in the outlands. Reed doesn't have much patience for old traditions and stories. So while most boys take their Overyear by age fifteen, Reed never did—and now he fears it's too late, anyway. But all this changes on the night of the village's biggest festival when a monster appears in Eidolon and spirits Reed away. Thrust into a world of waiting dangers, Reed must confront his deepest fears just to survive. As Reed begins to forge a life of his own, little does he suspect that the fate of the whole world depends on him. Overyear is a story of adventure and gentle magic in a world shaped by its mythological past. Fans of Patrick Rothfuss, Naomi Novik and Philip Pullman will fall in love with the characters and world in this novel.

The Eternal Parade tells the story of Evan, a recent art school graduate who, out for a walk one day, gets dive-bombed by a red-winged blackbird. Soon after, a mysterious band of 18th-century Japanese nomads appears at the door of nearby church looking for a place to rest. Evan is attracted to these travelers, and he becomes friends with one of them—whose name is, incidentally, also Evan. As the two get to know each other, they learn that they have much more in common than just their name.

In Koan, María Teresa has been arranged to marry Guillermo, the son of a wealthy businessman. That wouldn't be so bad if she didn't already have feelings for Álvaro, one of her oldest friends. When she's struggling most, María Teresa turns to the Church in hopes of a miracle. Things take a turn for the worse when she turns up pregnant, pointing her finger at the parish priest. A family and romantic drama set in 1980's Madrid.
Short Stories
Poetry
Travel
If you had a year to yourself, with no obligations and unlimited money, what would you do? If you're like most people, you'd go off and see the world. I'm the same way, but I believe that travel should not be relegated to hypothetical situations—I myself specialize in traveling on a shoestring. Fortunately, the academic lifestyle lends itself to travel.
Popping ears, awkward situations, biting fear, boredom, aha moments, snoring hostel roommates, museums, graffiti, long plane rides... I love everything about travel (though I don't always appreciate it in the moment).
When I go abroad, I tend to journal extensively. And draw. And take photos. Read about my travels:
Spain – I earned my MA while living in Madrid, and I decided to chronicle my time as a Spaniard in short, free-verse poems.
Poland – I studied abroad for a semester at the University of Warsaw, blogging all the way.
South America – The summer after my sophomore year, my friend Diego and I took a two-month trip around South America. I wrote up an eight-part account of our journey, published as Facebook notes. Read Tales from the Other America here:
Mexico City – I studied abroad for a summer at the Mexico City campus of Tec de Monterrey and wrote a series of short essays on my experience.
Europe – When I graduated from high school, I sold my car and went off alone to Europe for a month on a sort of art history pilgrimage. I kept a journal on my first time away from home.